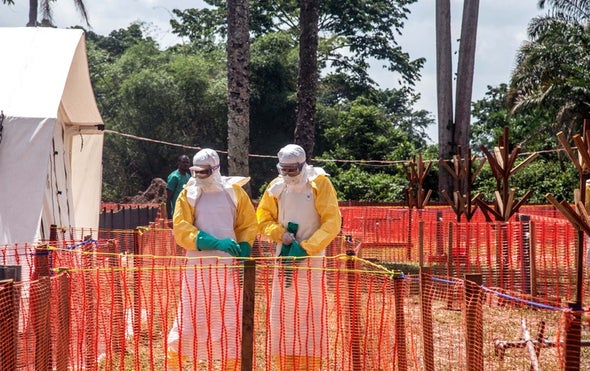 A week after the most recent Ebola outbreak in the Democratic Republic of the Congo was declared over, the country has confirmed it has found more cases of the disease.
The new cases are in a province at the opposite end of the country from the earlier outbreak, making it unclear if this is a new epidemic or a continuation of the previous one. But a statement from the ministry of health on Wednesday said the distance of more than 1,500 miles suggests these cases are not linked to the outbreak in Bikoro.
"It's unlikely to be connected to the previous outbreak," Jessica Ilunga, a spokeswoman for Health Minister Oly Ilunga, told STAT.
The new cases have occurred in North Kivu province, which is located in northeastern DRC, along with the border with Uganda and Rwanda. Last weekend the country's health ministry reported that there had been 26 people sick with fever and "hemorrhagic signs" at a place called Mangina. Of those, 20 had died.
Six samples were sent to the national laboratory in Kinshasa on Tuesday. Testing is still underway to determine the species responsibly, Ilunga said.
A team of 12 experts from Kinshasa will arrive in the outbreak area on Thursday to set up the needed components of the response, the health ministry's statement said. The team will include laboratory technicians, epidemiologists, clinical psychologists, and doctors, and will be equipped with a mobile laboratory and personal protective equipment.
During the Bikoro outbreak, there was the grave concern the town's proximity to the Congo River could allow for the spread of the virus to several major cities along the busy waterway, including the DRC capital, Kinshasa.
The geography of this outbreak is different, but also challenging. The region has long been riven with political conflict. North Kivu province is also home to more than 1 million displaced people. And there is significant cross-border travel with Rwanda and Uganda.
"This new cluster is occurring in an environment which is very different from where we were operating in the northwest," Dr. Peter Salama, deputy director-general for emergency preparedness and response at the World Health Organization, said in a statement. "This is an active conflict zone. The major barrier will be safely accessing the affected population."
The health ministry's statement noted that experimental Ebola therapies, sent to DRC during the Bikoro outbreak, are still in the country.
"The ethics and scientific committees will determine the most appropriate curative and preventive treatments for this tenth epidemic," it said.
But determining the species of the virus responsible for the new outbreak will be critical. The experimental vaccine used during the Bikoro outbreak targets Ebola Zaire, as does the ZMapp monoclonal antibody treatment.
If the new cases are caused by a different ebolavirus species, prevention and treatment options will be more limited.