Former Australia vice-captain and banned cricketer David Warner is enjoying and embracing his time away from cricket after the ball-tampering row has put his cricket career coming to a standstill.
The 31-year-old was banned by Cricket Australia for a year his involvement in the ball-tampering scandal that took the cricketing world by storm. Warner emerged as the chief conspirator during the incidents that happened on Day 3 of the Cape Town Test versus South Africa. Subsequently, he and Steve Smith stepped down from their posts of vice-captain and captain respectively and Tim Paine was appointed the captain for the rest of the match.
Following that, the trio of Warner, Smith and Cameron Bancroft were sent back to Australia and after further proceedings, he and Smith were handed one-year bans while Bancroft got away with a nine-month ban. If that was not all, they have been banned from playing domestic competitions and also in the Indian Premier League this year. They were also asked to serve 100 hours of community service.
And looks like Warner has taken the time off in a positive way and is making the most of it with his family.
"You are not home for long. With an extended period of time you are in a good routine but then it is selfless – kids are a priority – so it's day care, swimming lessons, gymnastic lessons and then you get your quality time together as parents," said Warner.
"I've missed that part until now where the kids run up to the gate saying, 'Mummy and Daddy are here', and I am really enjoying and embracing that," he added.
View image on Twitter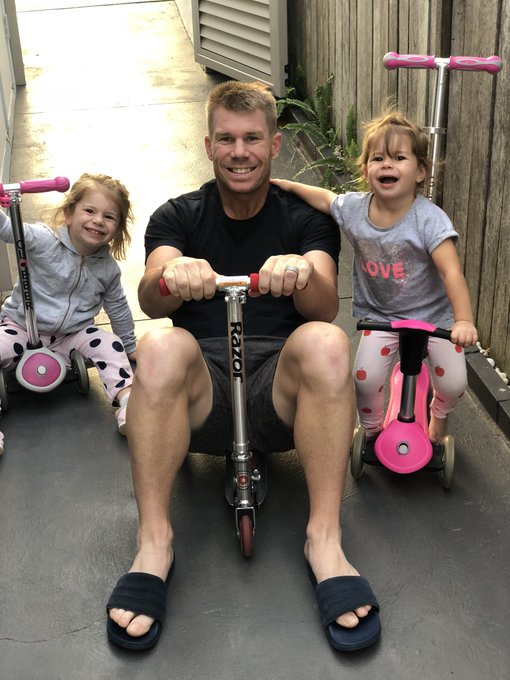 The Sydneysider had earlier said that he won't challenge the ban and will look to emerge as a better person. He also apologised for his actions as he broke down while addressing the media on his return to Sydney. But, since then, he has been involved in building his own house and serving the community and said he feels 'humbled'.
"It is humbling and overwhelming. Sometimes you sit back and reflect and wonder do people care about you as a person." he told NT News.
"Sometimes with our society something has to happen for the worst for people to come out and show a lot of support and I think I've learned a valuable lesson in this myself for the support I have been given to be on the front foot to help others," Warner added.
The southpaw also went on to say that spending more time with his family has eased the process and he is trying to spend as much time as possible with his family.
"Candice and I do all those things together. We take them to these things together – pick them up together. I always make sure I am able to do it all the time. I am making time now and it is worthwhile," said the father of two.
Warner will now hope to pass the year as soon as possible and return to the Australian team ahead of the World Cup in England in June. Newly appointed coach Justin Langer also kept the door open for all the three cricketers, saying that everyone has a place as long as they meet the standards.
"If they are willing to meet the standards of the Australian cricket team, I think everyone has a place," Langer said.