The temperature hit 25C in Paris but it did not seem to affect the 23-time major winner in her first Grand Slam match since giving birth last September.
"I feel like a warrior wearing it, a queen from Wakanda [referring to the Black Panther movie] maybe," she said.
"It was comfortable to wear."
The 36-year-old added: "I'm always living in a fantasy world. I always wanted to be a superhero, and it's kind of my way of being a superhero."
Serena Williams said she felt like a "superhero" in the black catsuit she wore during the 7-6 (7-4) 6-4 win over Kristyna Pliskova at the French Open.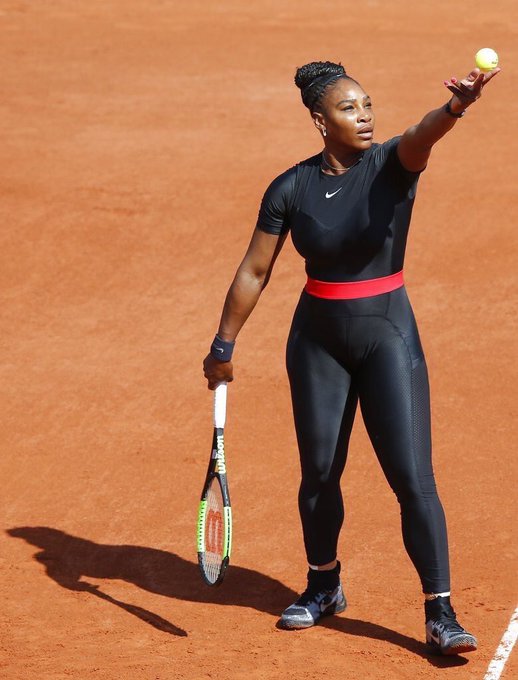 d in
In normal circumstances, if Serena Williams had struggle the first round here while finishing off an unseeded player who had never won a French Open match, there would have been alarm bells ringing all over Roland Garros.
But in light of Williams's recent life changes and challenges, her straight-set but hardly straightforward victory over Kristyna Pliskova on Tuesday was much more ray of sunshine than storm cloud.
She is, after all, unseeded herself.
"I feel like I'm on the right track," said Williams, who is newly married and a new mother.
Where the track leads from here in terms of results is perhaps not as essential as it once might have been. Williams has proved herself a champion beyond any reasonable doubt, but she clearly still wants more.
It was reminiscent of the black catsuit she wore at the 2002 United States Open en route to winning four major singles titles in a row, the so-called Serena Slam. It was also a sartorial shout-out to mothers far beyond Roland Garros.
"It feels like this suit represents all the women that have been through a lot mentally, physically with their body to come back and have confidence and to believe in themselves," said Williams, who indicated that the suit's compressive qualities also had a functional role in light of her recurring problems with blood clots, because it facilitated circulation.